About Us
In 1986, Acura Columbus became the first Acura dealership in the State of Ohio!
That's an accomplishment!
We have been providing exceptional service and brand models to the Columbus and Dublin areas for almost thirty years.
We believe culture makes a difference and we strive to build lasting relationships with our employees, customers, and community.
Listen
We can't learn how to help customers unless we listen to them. A customer comes to us because they in some manner need assistance with purchasing or servicing their car. Take time to hear our customers in order to learn how to best help them.
Have Fun
Don't live a life in which you wake up dreading going to work. Instead, make a decision to work in a profession that makes you happy and allows you to have fun. We want everyone at Acura Columbus to come to work with a smile on their face and realize that this is what they want to do for a living. Our ultimate goal is to make this a reality for everyone that chooses to work at Acura Columbus.
Try Your Best
Isn't it fun to be the best at what you do? Life is much more rewarding when you strive to be the best. Take pride in your job. Doesn't matter if you are washing cars, selling cars, financing cars, servicing cars or managing the process -- always try your best and you will be happy every day.
Be Nice
The golden rule - treat others the way you would like to be treated. Always remember that in all your discussions with fellow workers and our customers.
Ask Questions
Never stop being inquisitive. Acura Columbus is not a place where we do things because that is the way it has always been done. Throw the status quo out the window. Show interest in our fellow employees and customers. Be curious and push the envelope. Change never comes without asking questions.
Be Positive
Negativity is so draining. It drags down everyone. Make a conscious effort every day to be positive. It feels so good. We want to surround and immerse ourselves in positive people at Acura Columbus. Negativity can hit the streets.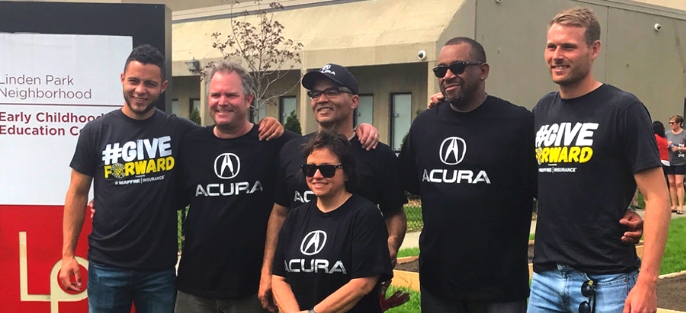 Acura Columbus teamed up with Columbus Crew S.C. to rebuild a garden for the elementary students at Windsor Academy.
Columbus Crew S.C. Garden Project
Columbus, OH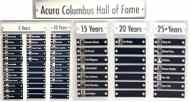 Acura Columbus has worked to support many local athletic teams and programs around Central OH, from little league teams, to high school athletic programs, to rec league hockey teams! We support the customers, employees, and families that support our business.
Local Athletic Teams
Central Ohio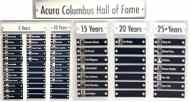 Here is a list of the Columbus Acura family Hall of Fame!
Hall of Fame!
Acura Columbus
Benefits
Health Insurance
401(k) Retirement Plan
5 Day Work Week
No Sundays Except Last Sunday of the Month
Monthly Incentives & Bonuses
Positive, Professional Work Environment
We're always looking for new
applicants to join our team!
View openings